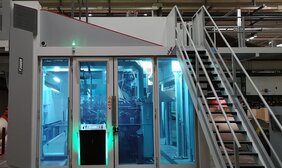 General Packaging was founded 22 years ago by Mario Zani. He started off the business with one person in commercial sales – himself. Today, the company that started life as a really small corrugated packaging sales office, is now generating over €70 million in annual sales and employs hundreds of people across four sites. The group has two corrugated board facilities and two sheet plants.
"The sales turnover grew very fast in the early years and we acquired some small production sites," recounts Zani. "Thanks to solid teamwork, we continued our growth and started to invest in additional corrugating and converting equipment at our various factories."
The company has its sites strategically located throughout the northern regions of Italy. "We focus our energy on the food and drinks industries," explains Zani. "Food, wine, beer, crisps and biscuits, for example, are key markets for us. One particular type of food product that is important to us, especially for V.G.K. in Vercelli, is rice, the type that is used for the traditional Italian risotto dishes. We also produce a lot of boxes for wines such as the local Barolo red wine varieties."
Big Step
Having created a good market presence, General Packaging made a bold move in 2014 when it acquired V.G.K Soncino. "Adding this company to our Group was a strong move, but little did we know how much additional growth this one company would give us," continues Zani. "It was only a few years later that we had outgrown the original factory, so we began looking for a new site to house the growing V.G.K. business."
By late 2016, the company had found a suitable factory in the small town of Vercelli, about 80km south-west of Milan. The factory, which was about 20 years old, had been used as a car tyre manufacturing site, but the overall space and very open plan nature of the building meant that V.G.K. could get into the factory without having to do lots of construction work.
Work began in the spring of 2018, with some minor modifications being made to the factory. The company then started to move machinery for the previous site, installing a series of converting lines with materials handling systems during the summer. At the heart of the converting department is a six colour Bobst flexo folder gluer, which runs alongside two Emba flexo folder gluers and a couple of Bobst flatbed die-cutters. Each of the flexo converting lines is equipped with pre-feeders, such as a Fossaluzza on the six colour Bobst line.
The company has also invested in a waste extraction system, choosing New Aerodinamica for scrap removal off the corrugator, feeding into a Macpresse compactor/baler. Work is ongoing, ensuring the complete boiler and waste collection area is undercover.
New Corrugator
General Packaging had big plans for the new site, so much so, it wanted to install a new corrugator. "We wanted a machine that would create high quality, flat corrugated sheets, but we did not need a machine that created huge volumes," explains Zani. "We started discussions with Fosber right from the start, but told them we did not need one of their high speed S/Line corrugators for our new production plant. It was then that Massimiliano Bianchi and his team of technical directors started to present the idea of a slightly more basic machine, which they felt would suit our needs. To this end, we were fully engaged with Fosber's concept of the C/Line."
He continues, "Fosber did excellent work in our Soncino plant, upgrading an older Fosber line. They upgraded the line and made it run better than before, with more efficiency and better board quality. This gave me the complete confidence to trust Fosber when they proposed we take the first ever C/Line concept."
The C/Line was unveiled to the market in 2018. "We should point out that many of the components are similar to the S/Line high speed machine, but have been adjusted to suit the requirements of slightly smaller factories," states Mauro Adami, Technical Director at Fosber. "However, it is not just a smaller or slower version than its big brother. There are some special machine units such as the Edge single facer and a new concept of stacker and take-off that makes this a completely new line. We have also designed the machine with a keen focus on rapid installation – for example, some of the machine line units are self contained in complete units, such as the slitter scorer unit, making installation a little quicker than the S/Line. All of these factors were important when we worked with V.G.K. on the specification of this new corrugator."
Calculated Gamble
It is always hard to be the first company to make a decision to buy a new machine, as there is no way of field testing or seeing another example in daily operation. "Ultimately, we chose the C/Line because we wanted to improve our market share, but we didn't need a top performance machine. We needed something smaller and easier to run, but with the build quality and service and support associated with a leading equipment manufacturer. For us, Fosber ticked all the boxes and we had no hesitation in choosing the first ever C/Line."
Another risk was the location of the new factory, as it is a relatively small town and Zani did not simply want to parachute in operators from other factories within the group – he wanted a new, young team. "We had to be mindful that due to the location of the new factory, we had a completely new set of machine operators to recruit. Working closely with Fosber, we have been able to train every single person on the corrugator crew, ensuring that the new line runs at good speed averages across the shifts and keep a keen eye on producing flat board. It seems to be working well, as the converting department has seen a significant reduction in waste board, compared to our last site."
With the new team and the new corrugator, pressure is now already being felt in the converting department to keep up with output! "We already have investment plans in place for converting," confirms Zani. "We are taking delivery of a new Bobst six colour flexo folder gluer in the Spring and this will significantly boost our converting capacity and bring it in line with the output from the new C/Line."
Relationship is Key
As Zani and his management team look at the business, so comes the projections for the year ahead. "With the new plant, we are aiming at growing our business from €70 million to €100 million within the next 12 months. But to achieve this, we have relied heavily on Fosber. Massimiliano Bianchi and his team have developed a great new corrugator line and we are proud to be the first in the world to showcase its true potential. It is a win-win for both parties and we look forward to growing our reputation in the market alongside Fosber."
---
Credits = The Packaging Portal: €20 million investment for V.G.K.
---