Pro/Visionair - Virtual Technician Onsite
Technical Features
Helmet for remote support from HQ to customer plant
Audio and video real time connection
Binocular near-eye mobile display to get information and visual instructions
Wireless Head unit and microphone
Wireless hand cam + thermal camera
Connection through mobile phone connection (3G/4G) or WiFi
Pro/Visionair - Virtual Technician Onsite is the ultimate stand alone support tool specifically developed to help plant maintenance engineers maximise uptime on your Fosber corrugator, by keeping the line running with maximum efficiency. Utilising a helmet with communication head-piece and built in glasses-cam, Pro/Visionair - VTO allows your engineers to be in direct contact with Fosber technicians, in real-time at any time, while diagnosing any technical or maintenance issues. The system works very simply. Once an operator identifies an issue on the machine, he puts on the helmet and gets touch with Fosber customer care team, where a dedicated technician logs into the system, so starting on-line dialogue.
The helmet is fitted with a 3G/4G or Wi-Fi connection, so that the Fosber technician can actually see than the operator is seeing. Thanks to the high speed data connection, the Fosber technician can then help guide your plant maintenance engineer to home in to the parts that require assisntace, by way of projecting digital information such as arrows, indicators, images or diagrams into the displays built in to the glasses on the helmet.
Thanks to all these tools, the hurdles of the language barriers and difficulties in communication are eliminated, as the Fosber technician can see exactly what the operator in your plant is seeing.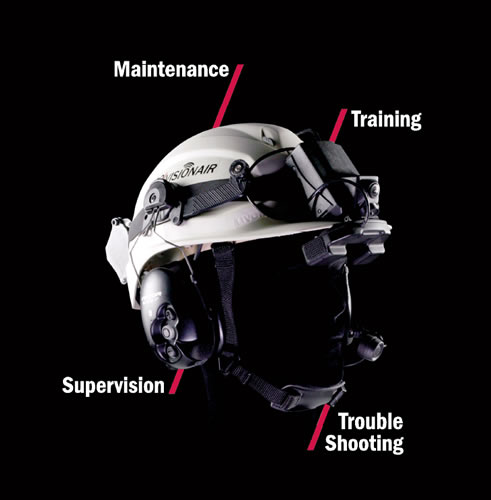 Simultaneously your operator can receive details on exactly what is needed to resolve the problem. Pro/Visionair - VTO is an excellent tool that helps you significantly reduce troubleshooting time and therefore machine downtime. You no longer need to wait for a Fosber technician so it also saves you travel, board and lodging costs. It will help remove unproductive downtime, because with this new tool, it is as if our technicians are in your plant.
Pro/Visionair - VTO is available to customers who are running any Fosber corrugator, no matter how old or new.
Free-of-charge 24/7 telephone and remote modem customer care support remain in place and fully available as usual.