Aid from China, as Dong Fang donates protective suits and masks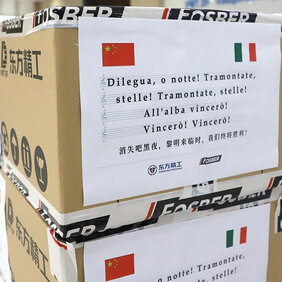 At Fosber Group, our primary goal is the safety and well being of our staff and our customers. But our commitment is also to the communities in which we operate. To this end, we were delighted to hear from our parent company, DF Group, who has decided to donate 80,000 masks to our community services in Italy. Of this number, 60,000 will be delivered to our local hospital San Luca (in Lucca) and 20,000 to local Police and Carabinieri. DF Group has confirmed that it will send 1,000 protective suits.
They will also ship 4,500 disposable mask and 500 FFP1 to other group companies: Tiruña in Pamplona, Spain and Quantum Corrugated (Agnati) near Milan.

The first tranche of the masks and protective suits are now being shipped and are on their way. In the next few days, DF Group will ship the rest of the goods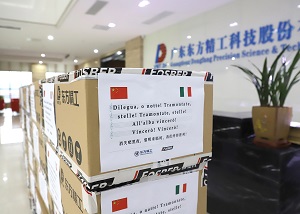 In a move that will resonate with Italians, DF Group marked the boxes with the last sentence of the aria 'Nessun Dorma' from Puccini's opera, Turandot. The labels say: "Dilegua, o notte! Tramontate, stelle! Tramontate, stelle! All'alba vincerò! Vincerò! Vincerò!"
Translated literally, this means "Vanish night! Fade, you stars! Fade, you stars! At dawn, I will win! I will win! I will win".
It is a very strong message for all of us and we hope it give us some additional strength as we fight this global pandemic.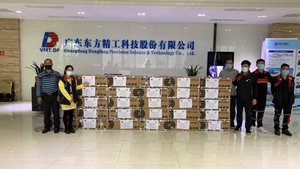 "Our most sincere thanks must go to Victor Tang President of Dong Fang, and Annie Qiu, CEO (in the picture below)" says Massimiliano Bianchi, President and Managing Director of Fosber Group. "We are hopeful that by sharing this positive news, other companies might get involved and do the same for other hospitals and public services. We are all facing this virus and we must defeat it together as a global community."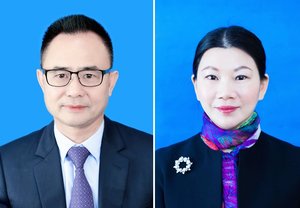 ---