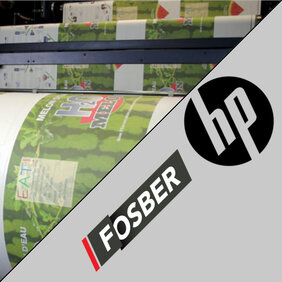 HP has formed a strategic relationship with Fosber Group as part of the PWI SmartStream Solutions Partner Program. This collaboration aims to combine the strengths of both companies and deliver cutting-edge solutions that enhance the capabilities of digital print and advanced corrugators.
Fosber Group is excited about collaborating with HP to run digital pre-print on all its corrugating lines and the Quantum corrugator as well. This will provide the customers a flexible, high-quality solution of producing digitally printed sheets on the corrugator.
Fosber and HP, alongside long-standing SmartStream Partner Program member E+L, seek to offer a solution for the litho-lam market – DigiCorr – by combining the power of HP PageWide T700i and T1195i Presses with the capabilities of the Fosber lines, equipped with E+L Smartline controls provides manufacturers with a streamlined and highly efficient approach to producing high-quality, high-graphic boxes.
The HP's 1.7m and 2.8m presses together with the Quantum line deliver exceptional performance and versatility, with consistent quality for microflute production, catering to lightweight papers down to 50gsm. The Quantum offers high productivity and production flexibility: it supports standard plain board as well as varnished and special coated options. Additionally, the Quantum enables the production of larger printed sheet sizes, further expanding creative possibilities for packaging manufacturers.
Through this collaboration, Fosber and HP aim to transform the corrugated packaging landscape, empowering manufacturers to achieve new levels of productivity, creativity, and customer satisfaction. By joining forces with E+L, they ensure that industry-leading expertise and cutting-edge solutions converge to deliver unmatched value to their customers.
"We are thrilled that Fosber Group has chosen to join HP's SmartStream Partner Program," said Stephen Shannon, WW Go-to-Market Manager, HP PageWide Industrial Packaging. "By combining Fosber's cutting-edge corrugator technology with HP's advanced digital printing capabilities, we can revolutionize the way boxes are produced. This strategic relationship opens up new possibilities for efficiency and cost-effectiveness in the corrugated packaging industry, and we look forward to the positive impact it will have on manufacturers and their customers."
---