COMPLETE CORRUGATOR
ROTATING STAND & SPLICER - LINK M2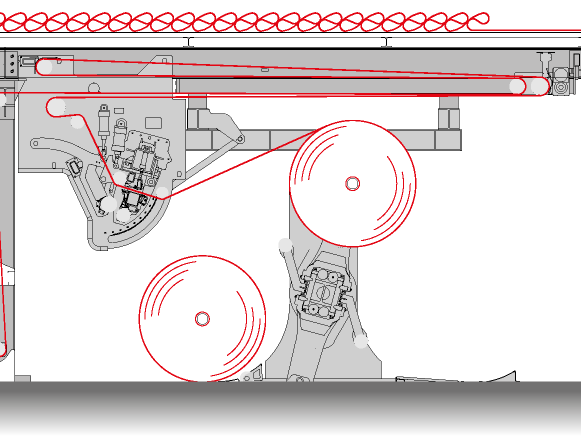 The LINK M2 is a rotating turret integrated roll stand-splicer that sits within the same footprint space as a conventional butterfly reel stand. Thanks to its unique design with a fixed single sided splice head and preparation bar, the LINK M2 provides fast reel change cycles even if the corrugator is situated against a wall as all reel handling is contained to just one side of the line. Paper reels are fed into the machine on the dedicated infeed track with an integrated roll aligner to ensure precise and reliable core location, loading on to the chuck arms and splice preparation. Once the new reel has been spliced in, the rotating turret first deposits the old reel on to the dedicated outfeed track and then continues its rotational movement so that the running reel is now moved over to the outfeed side of the machine, thus allowing the next reel to be driven in to the machine for loading and splice preparation.
This unique design of the LINK M2 reduces the roll change cycle time by over 50s compared to a conventional roll stand with single sided reel handling. In addition the reel handling logistics are rendered so much simpler thanks to the dedicated infeed lane and dedicated outfeed lane, making it practically impossible for the clamp truck to load a reel on to the wrong lane.
COMPACT STAND & SPLICER - PAPERLINK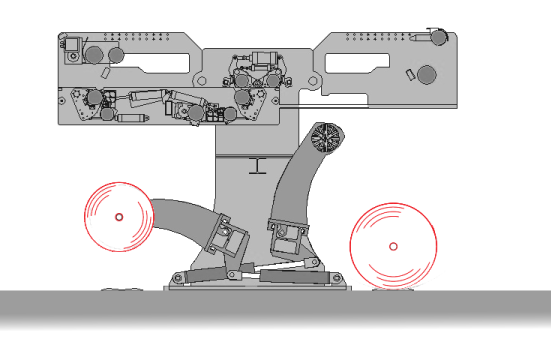 The Paperlink is a compact integrated splicer roll stand machine unit. It comes in versions for 250mpm splice speed (4m long) or 300mpm splice speed with the extended festoon (5m long). This integrated design has reduced Paperlink's footprint not only in machine direction but also allows compatibility with much lower bridge heights. In addition this design also reduces PaperLink's installation time and freight costs.
The Paperlink has a fixed upper splice head positioned in the centre of the machine and a mobile lower splice head carriage which moves to the two outer sides of the machine for easy splice preparation when called by the operator. The patented splice sequence is all carried out in a single continuous movement.

The roll stands are able to handle 3.7T paper reels or 4.2T jumbo reels with the double hydraulic cylinder option.
Other options include the Automation Pack for auto core location and automatic reel loading and unloading complete with integrated core ejectors. The TAIL LINK option involves the installation of photoeyes on all four chuck arms to automatically detect and initiate end of reel splicing or to automatically carry out a splice if a paper break has occurred.

When required for a stand-alone installation the PaperLink can be equipped with its own independent electrical cabinet and touchscreen control panel.
SINGLE FACER - EDGE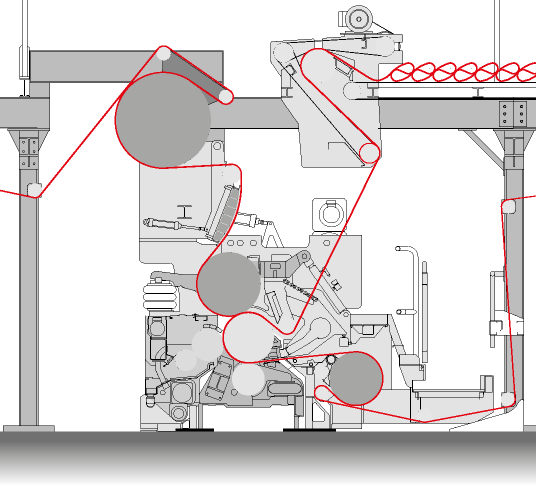 At the heart of the C/Line is the brand new EDGE single facer that has inherited much of the technology from Fosber's SMART single facer. It is a totally flexible multiple flute quick-change cassette single facer.
The extended nip "BELTLESS" design concept with its 5:3 ratio differential design of the two corrugating roll diameters means that the EDGE also sports the ideal flute forming labyrinth particularly when running lighter weight papers.
The EDGE also has the ability to run with true zero wrap on all external and internal preheaters and preconditioners, while a completely new vacuum arrangement ensures that the liner and fluting are perfectly held together under constant and uniform contact across the full web width during the bonding process.
The EDGE single facer also hosts the same series of fully automatic controls features as the SMART such as variable wrap arm positioning, automated controls for steam pressures and steam shower, automatic "kiss" press roll control, and automatic glue gap controls.
With its compact dimensions the EDGE can be installed in the space of any existing single facer and furthermore it has been designed to dramatically reduce installation time and civil work requirements as the machine can be installed on an existing foundation.
BONDING ZONE - CONCEPT

The CONCEPT is a complete grouped machine glue zone that comprises three main units; the multiple preheater, the glue unit and the double backer - all bundled into a single machine with singular control. The unique design of the Concept makes it suitable for the production of both lightweight and heavy duty board grades.
The CONCEPT has a single operator PLC and touch screen control station to manage the whole bonding zone. Like all other C/Line machines, the CONCEPT comes in versions for 250 mpm or 320 mpm production speeds, in either single wall or double wall configuration.

The preheater is composed of multiple 900mm diameter heating drum driven at line speed for maximum thermal efficiency. The staggered design of the drums around the glue unit significantly reduces the paper path distances so drastically reduces the heat loss of the paper.
Various heat booster options that are available include steam infusion, larger diameter preheater drums and bottom liner booster curved hotplate. Automatic temperature controls are also available as options.
Each glue level is composed of a doctor roll, applicator roll, drive assembly, glue dams and stainless steel glue pan, with independent settings and automatic glue dam positioning.
The double backer unit of the CONCEPT can be configured with 13 or 16 heavy duty 750mm hot plates, according to the customer's requirements. The innovative pressure shoe system guarantees uniform pressure across the full width of the board, automatically reduces at the extremities of the board to prevent edge crush. The on-board steam system provides independent heating sections with full condensate recovery.
DRY-END - SHARP

The SHARP is a complete grouped dry-end machine zone that comprises three main units; the rotary shear, slitter scorer and cut-off knife - all bundled into a single machine with singular control.
The SHARP has a single operator PLC and touch screen control station to manage this whole dry-end machine zone. Like all other C/Line machines, the SHARP comes in versions for 250 mpm or 320 mpm production speeds, in either single level or double level configuration.

The SHARP is a fully automatic machine, which means the whole dry-end can be controlled by a single operator, from the centralised singular touch screen control station. It sports all the standard features of the Fosber's dry-end advanced technology such as gapless order change and OIL FREE slitting and cutting and very short order capability.
The SHARP has a very compact footprint and is an ideal solution for those plants with restricted space. It has also been designed for extremely fast installation with minimal (if any) civil work requirements.
The cut-off knife section sports Fosber's patented hydrostatic bearing knife bars which result in extremely long intervals between tuning and a greatly extended blade life.
STACKER - TERMINAL

This brand new downstacker is fully automatic and is available as a single or double level configuration.
From the dry-end sheets are delivered on to the downstacker where they are first shingled and aligned on the braking section via a guided vacuum belt and an automatically controlled brush group assembly. The control system, according to a personalised pressure curve set at each individual installation, dynamically adjusts the variable pressure on each of the five brushes according to the sheet width, sheet length, the flute type, and actual running line speed being run
Stack changes are accomplished via a moving clamp. The result is that stack/order changes can be carried out at the highest line speeds, while continuously maintaining the best stack quality available in the market.

Thanks to the multiple independent belt sections and intelligent machine program, multiple orders can be managed on the stacker at the same time, ensuring very short order capability. A counterweight arrangement on the stacker elevator decks reduces stack ejection cycle times by more than one-third, not only improving stack quality but also increasing production speed capabilities.
To further reduce the cycle time this machine is equipped with an in-line reverse discharge feature that allows the fast and stable removal of the narrowest sheet sizes. Alternatively it can be equipped with a standard lateral discharge according to each customer's needs and space requirements.
SUPERVISOR - Pro/Syncro

Fosber's corrugator is controlled by the Pro/Syncro supervisor system. Pro/Syncro can be supplied either as a pure wet-end control system, a pure dry-end control system or a total corrugator control system. Automatic wet-end features of Pro/Syncro include bridge management and calibration, synchronisation of speed and splices, partial reel label printing, roll stock management interface, roll stand monitoring, paper break detection, wet end order change as well as full displays for machine status, alarms and diagnostics. Fosber's Pro/Syncro dry-end control supervisor provides detailed production reporting, intelligent diagnostics, pallet label print-outs, and data links to the wet-end, office and scheduling networks, and materials handling control systems. Pro/Syncro can even be further expanded to offer a fully automatic process control system.
Physically, the Pro/Syncro control system is comprised of a control panel, positioned adjacent to the other dry-end machine control panels, thus offering easy access to the operator. A certain number of client PCs with cubicle displays can be added to the main Pro/Syncro server PC Ethernet network so they can be located in any preferred area on the corrugator line. This allows the corrugator to be controlled and managed also from areas outside of the control room.
The Pro/Syncro architecture is designed with two separate networks on which all the necessary devices are connected. One network is dedicated to all the devices that enable Pro/Syncro to synchronise all the machines on the line and to monitor production progress in Real Time. The other network is for data exchange purposes that allow Pro/Syncro to interface to the various control systems present on the line such as machine/office/printer supervision controls) etc. The standard Pro/Syncro architecture can be expanded to meet the customer's requirements and to assist in facilitating various operator tasks.
Pro/Active
Pro/Active is an closed-loop control system that automatically monitors and controls all the various settings and variables of the corrugating process, reducing waste by ensuring a proper bond and optimum quality flat board is produced.
This is achieved by measuring and monitoring temperatures and moisture levels at strategic positions long the corrugator line, and then automatically adapting the various machine and system parameters to ensure that the ideal target process settings that have been set and personalised for each individual board type quality the plant produces are met.
The Pro/Active will therefore continuously automatically set and adjust all such settings such as the variable wrap arm positions, steam pressures along the corrugator, steam showers, all glue gaps, double backer steam shoe pressure settings as well as the paper tensions in the splicers and at the bridge brake. The closed-loop control system also allows instant automatic correction of any warp detected (either by the operator or by automatically by a laser bank) in either machine or cross-machine direction system.
The simple and intuitive main operator interface page not only shows all the operator all the current settings but also allows the operator to quickly fine tune and adjust the settings for any individual quality type being run, which can then be easily saved to the database if desired.
The "Record" feature is a further enhancement to the Pro/Control and an extremely useful tool that collects & stores (for up to 12 months) all the historical production & process data for every single dry-end order run off the corrugator. This feature records, stores & generates graphs of all relevant data such as actual running speeds, the specific IDs of each individual paper reel actually used to run that order, as well as all the main corrugator process settings such as the steam pressures, wrap arm positions, temperature and moisture readings, starch dosages, shoe settings etc. so target settings can continuously be monitored, checked and optimised. Furthermore Record provides our customers, as well as their own subsequent customers, with a complete "provenance" of every individual packaging order produced on the dry-end over the last 12 months.
The flexibility and range of features within Pro/Syncro provide an extremely powerful toolbox that adds significantly to corrugator productivity and quality of product and standardises how corrugated board is produced across different plants within the same group. At the same time results in lower costs thanks to a reduction of waste and far fewer claims as well as less starch and steam consumption.
ENHANCED CONTROLS

Introducing its latest performance enhancing software system, Fosber launches Pro/Care and Pro/Quality for its latest generation corrugators.
As the corrugated industry begins its journey into 'Industry 4.0', equipment manufacturers are looking at ways to future proof machinery designs. With the emphasis on designing intelligent machinery, manufacturers are now focussing their attention on software systems that will help ensure maximum uptime and minimum disruption to daily routines and enhanced quality of corrugated board.
With its latest generation of Smart corrugator, Fosber has now launched Pro/Care and Pro/Quality, an online system for real time monitoring and recording of all data on the corrugator, as well as defect detection, correction and ejection.
Pro/Care
The core concept of Pro/Care is to remove the total reliance of this vital aspect of maintenance of the corrugator on people, by having the machine itself dictate exactly which services are needed to be carried out.
By continuously capturing actual production, process and machinery data in real time, Pro/Care is able to intelligently and scientifically manage the maintenance and technical support, as well as providing pre-emptive diagnostics and unprecedented data analysis. Based on the actual captured production data and usage of the corrugator, Pro/Care identifies, plans and instructs which pending maintenance tasks need to be carried out and when.
Pro/Care details exactly which resources, man hours, equipment and parts are required to carry out the scheduled maintenance. It illustrates the relevant step-by-step procedures through easy-to-follow video and photographic instructions and generates both maintenance reports and proposals for new and future activities.
The interactive search facilities allow users to instantly locate and browse the maintenance procedures even when they are physically working inside the machine thanks to convenient accessibility via tablets or smart phones on the Pro/Care WiFi network. This feature of Pro/Care was developed not only as a valuable on-line intelligent maintenance system, but also as a training tool to allow operators to continuously enhance their knowledge of the corrugator, thanks to its interactive features.
Pro/Care's enhanced analytical software suite provides continuous productivity and process recording and reporting thanks to its full interface and integration to Fosber's Pro/Syncro corrugator control system. Flexible filters and abstract reporting features provide detailed analysis across any desired input period over the last 12 months – whether by flute, board quality, machine, process parameter, downtime, shift, order, format, paperweight, speeds and so on.
Two additional modules of Pro/Care continuously monitor and record important consumption data for both diagnostic and analytical purposes. The CMD (Corrugator Machine Diagnostics) module constantly monitors all the main motors and their associated kinematic chains, simultaneously cross referencing this data with the actual running conditions and type of production on the corrugator. The system establishes a self-learning correlation matrix between the measured current consumption of all the kinematic chains against the actual parameters of the running corrugator. In this way, it provides real time diagnostic analysis as it is able to instantly identify any anomalies that arise outside the predicted tolerance absorption bands. This results in Pro/Care automatically notifying and activating the Fosber customer care department, allowing potential issues to be indentified and addressed though pre-emptive measures before they become actual problems. CMD has already proven itself to be a powerful tool in the first field installations. Similarly, the CCM (Corrugator Consumption Monitoring) module measures actual steam, electrical power, compressed air and starch consumption during operation of the corrugator, which is cross referenced in real time with the type of board production currently running. These values are recorded and stored in Pro/Care and are useful, not only for further machine diagnostics but allowing post-evaluation for a complete analysis of cost optimisation, energy usage and overall sustainability.
Thanks to scientific and intelligent on-line maintenance programming, real time monitoring and recording, enhanced data analysis and pre-emptive diagnostics, Pro/Care can assist in maximising the uptime and overall corrugator efficiency.
Pro/Quality
Pro/Quality is a defect detection and monitoring system that is installed at each single facer to monitor the web immediately, at source, as it exits the machine just prior to the take-up conveyor. Utilising vision techniques and technologies, Pro/Quality monitors, detects and records in real-time any defects across the full web width with 100 per cent coverage.
It detects all web surface defects such as paper defects, as well as any 3D defects such as delamination, bubbles, blistering, folds, wrinkles, tears, splice joints, flute crush or edge defects. The system is intrinsically linked to Fosber's Pro/Syncro corrugator control and wet-end process control system to exchange all relevant production and process information of the running order, thus providing a useful analytical database and record of all defects created, cross referenced against this data.
Thanks to its integration with Pro/Syncro, Pro/Quality automatically tracks and ejects any detected waste sheets from the corrugator at the waste diverter located immediately after the cut-off knife. In this way, only sellable boards are passed on to the stacker. Pro/Quality also provides instant operator diagnostics and immediately adjusts relevant machine parameters and process settings to correct the detected defect.
Pro/Quality not only optimises board quality and reduces waste but it also guarantees no defective board from the corrugator is delivered to the plant's customer.
SOUND BOOTH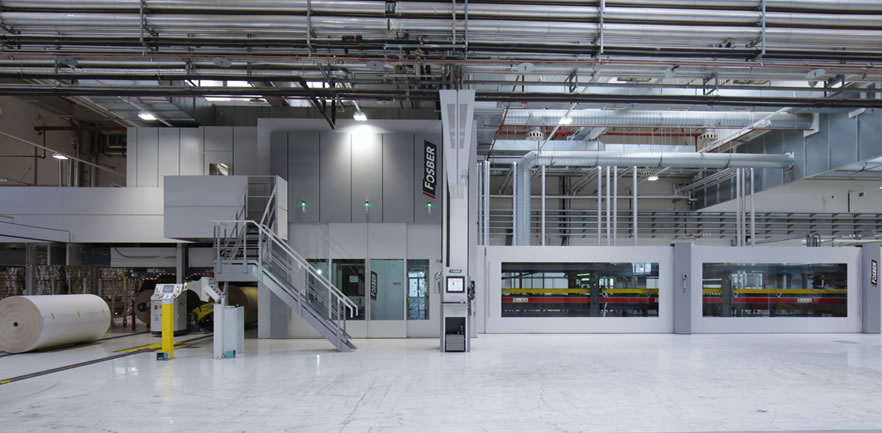 Fosber has developed a bespoke Sound Enclosure for the complete corrugator line with a totally new streamlined modern design. This unparalleled aesthetic designs results in a truly unique 21st century contemporary appearance for the corrugator that will enormously impress any visitor who enters the production hall area.
The new Sound Enclosure limits sound emissions to below 85 db and conforms to all the latest CE regulations. It means that a corrugator can be installed in a residential area without any problems or limitations to times when the corrugator can be run. The Sound Enclosure has been design engineered using a combination of large areas of "armoured" glass as well as sound-proofed panelling to not only reduce the sound levels but also ensure optimum operator visibility to all the various machine operating areas is retained (which other traditional sound booth designs do not take into consideration). All operator controls and screens form an integral part of the design conveniently mounted on external panels for optimum functionality.
Complete with all operator controls a internal lighting and suitable air extraction systems, the Sound Enclosure has been specifically designed and "tailor-made" for the Fosber corrugator, providing easy and unrestricted operator and maintenance access to all areas of the machine whenever required.