Introducing its latest performance enhancing software system, Fosber launches Pro/Care and Pro/Quality for its latest generation corrugators.
As the corrugated industry begins its journey into 'Industry 4.0', equipment manufacturers are looking at ways to future proof machinery designs. With the emphasis on designing intelligent machinery, manufacturers are now focussing their attention on software systems that will help ensure maximum uptime and minimum disruption to daily routines and enhanced quality of corrugated board.
With its latest generation of Smart corrugator, Fosber has now launched Pro/Care and Pro/Quality, an online system for real time monitoring and recording of all data on the corrugator, as well as defect detection, correction and ejection.
Pro
/

Care

The core concept of Pro/Care is to remove the total reliance of this vital aspect of maintenance of the corrugator on people, by having the machine itself dictate exactly which services are needed to be carried out.

By continuously capturing actual production, process and machinery data in real time, Pro/Care is able to intelligently and scientifically manage the maintenance and technical support, as well as providing pre-emptive diagnostics and unprecedented data analysis. Based on the actual captured production data and usage of the corrugator, Pro/Care identifies, plans and instructs which pending maintenance tasks need to be carried out and when.

Pro/Care details exactly which resources, man hours, equipment and parts are required to carry out the scheduled maintenance. It illustrates the relevant step-by-step procedures through easy-to-follow video and photographic instructions and generates both maintenance reports and proposals for new and future activities.

The interactive search facilities allow users to instantly locate and browse the maintenance procedures even when they are physically working inside the machine thanks to convenient accessibility via tablets or smart phones on the Pro/Care WiFi network. This feature of Pro/Care was developed not only as a valuable on-line intelligent maintenance system, but also as a training tool to allow operators to continuously enhance their knowledge of the corrugator, thanks to its interactive features.

Pro/Care's enhanced analytical software suite provides continuous productivity and process recording and reporting thanks to its full interface and integration to Fosber's Pro/Syncro corrugator control system. Flexible filters and abstract reporting features provide detailed analysis across any desired input period over the last 12 months – whether by flute, board quality, machine, process parameter, downtime, shift, order, format, paperweight, speeds and so on.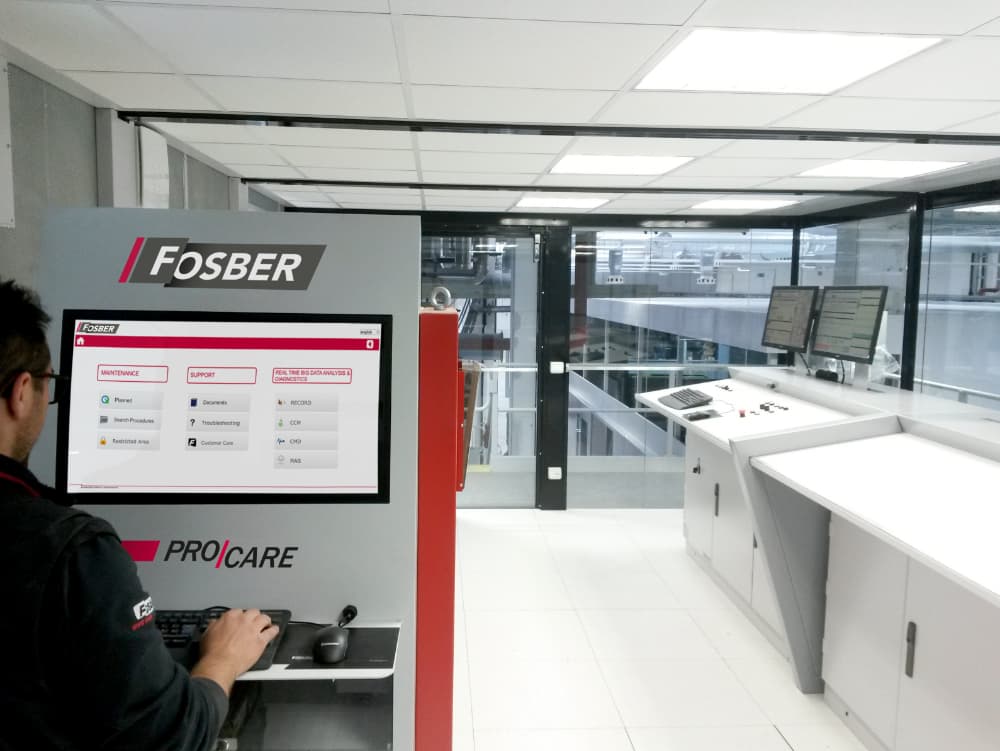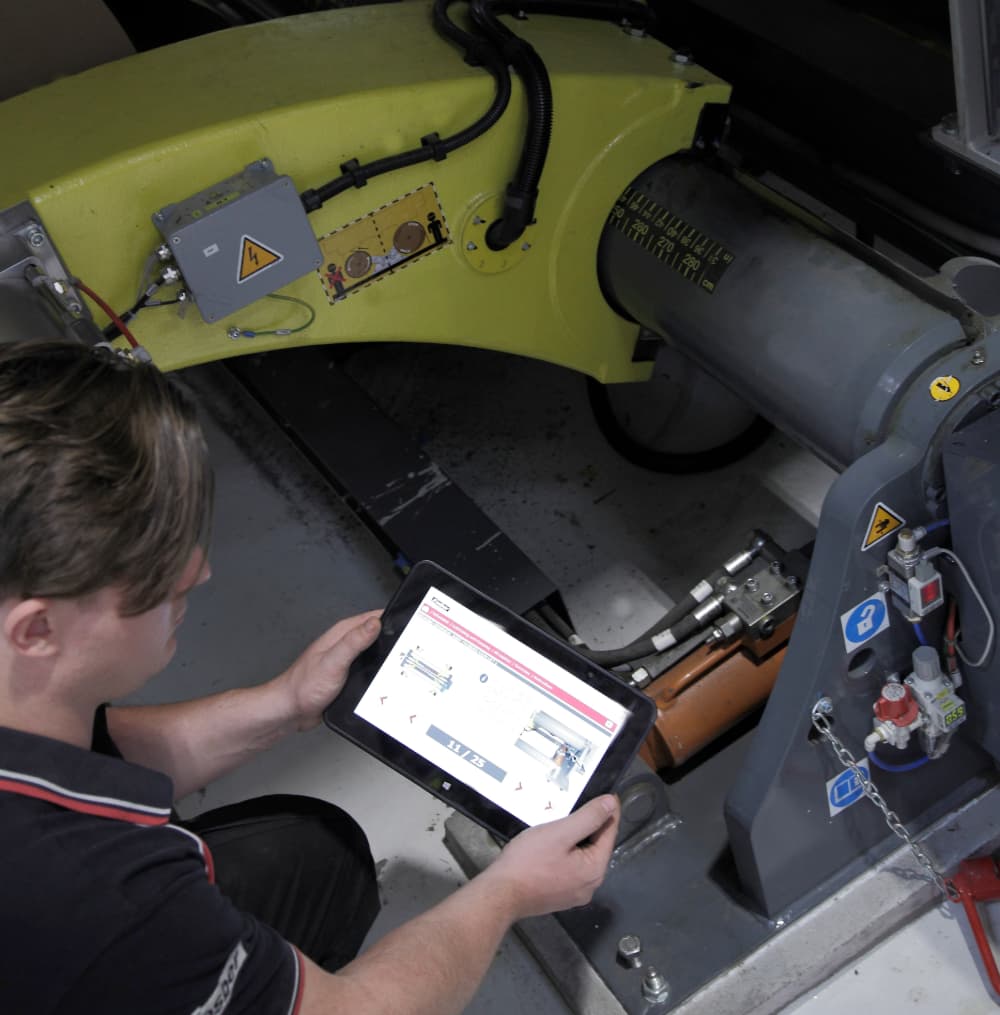 Pro
/

Care - Additional Modules

Two additional modules of Pro/Care continuously monitor and record important consumption data for both diagnostic and analytical purposes. The CMD (Corrugator Machine Diagnostics) module constantly monitors all the main motors and their associated kinematic chains, simultaneously cross referencing this data with the actual running conditions and type of production on the corrugator. The system establishes a self-learning correlation matrix between the measured current consumption of all the kinematic chains against the actual parameters of the running corrugator. In this way, it provides real time diagnostic analysis as it is able to instantly identify any anomalies that arise outside the predicted tolerance absorption bands. This results in Pro/Care automatically notifying and activating the Fosber customer care department, allowing potential issues to be indentified and addressed though pre-emptive measures before they become actual problems. CMD has already proven itself to be a powerful tool in the first field installations. Similarly, the CCM (Corrugator Consumption Monitoring) module measures actual steam, electrical power, compressed air and starch consumption during operation of the corrugator, which is cross referenced in real time with the type of board production currently running. These values are recorded and stored in Pro/Care and are useful, not only for further machine diagnostics but allowing post-evaluation for a complete analysis of cost optimisation, energy usage and overall sustainability.

Thanks to scientific and intelligent on-line maintenance programming, real time monitoring and recording, enhanced data analysis and pre-emptive diagnostics, Pro/Care can assist in maximising the uptime and overall corrugator efficiency.
Pro
/

Quality

Pro/Quality is a defect detection and monitoring system that is installed at each single facer to monitor the web immediately, at source, as it exits the machine just prior to the take-up conveyor. Utilising vision techniques and technologies, Pro/Quality monitors, detects and records in real-time any defects across the full web width with 100 per cent coverage.
It detects all web surface defects such as paper defects, as well as any 3D defects such as delamination, bubbles, blistering, folds, wrinkles, tears, splice joints, flute crush or edge defects. The system is intrinsically linked to Fosber's Pro/Syncro corrugator control and wet-end process control system to exchange all relevant production and process information of the running order, thus providing a useful analytical database and record of all defects created, cross referenced against this data.

Thanks to its integration with Pro/Syncro, Pro/Quality automatically tracks and ejects any detected waste sheets from the corrugator at the waste diverter located immediately after the cut-off knife. In this way, only sellable boards are passed on to the stacker. Pro/Quality also provides instant operator diagnostics and immediately adjusts relevant machine parameters and process settings to correct the detected defect.

Pro/Quality not only optimises board quality and reduces waste but it also guarantees no defective board from the corrugator is delivered to the plant's customer.